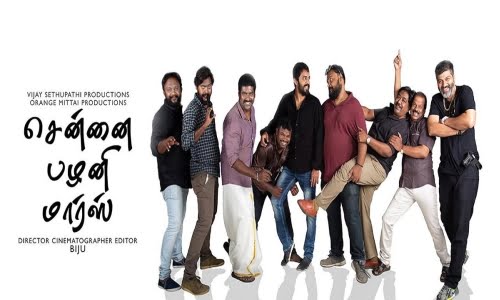 Chennai Palani Mars is a 2019 Indian Tamil drama film co-written, co-produced and directed by Biju Viswanath. The film is also co-written and co-produced by Vijay Sethupathi under his own production house. It stars Praveen Raja and Rajesh Giriprasad in the lead roles, alongside a cast featuring predominantly newcomers.
The film narrates the story of a cocaine addict who sets off on a road trip with a fellow junkie to realise his dream of reaching Mars via Chennai and Palani, after pinning hopes on a scientifically unstable concept. Featuring music composed by Niranjan Babu, the film was released on 26 July 2019.
The opening scene of Chennai Palani Mars is that of a father and son – all geared up to travel to Mars in an unconventional and bizarre manner with zero-cost strategy. The ambitious father keeps attempting the same for 20 years, after which his son starts pursuing the former's dream. He sets out for the mission with a friend of his. The story revolves around the bizarre challenges they face during their journey.
Directed by Biju Viswanath
Produced by Biju Viswanath & Vijay Sethupathi
Written by Biju Viswanath & Vijay Sethupathi (dialogues)
Starring Praveen Raja, Rajesh Giriprasad, Vasant Marimuthu
Music by Niranjan Babu
Cinematography Biju Viswanath
Edited by Biju Viswanath
Production Orange Mittai Productions & Vijay Sethupathi Productions
Release date 26 July 2019
Country India
Language Tamil