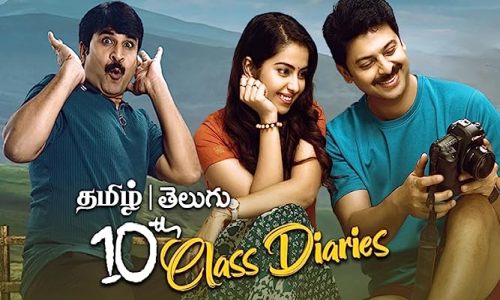 10th Class Diaries is a 2022 Indian Telugu-language coming-of-age romantic comedy film directed and filmed by Garudavega Anji from a story written by Vennela Ramarao. The film stars Sriram, Avika Gor, Srinivasa Reddy, Ramarao, Himaja and Archana.
The plot follows Somu (Sriram), an affluent NRI who returns from the US for a reunion with his schoolmates in India. When his childhood sweetheart Chandini (Gor) doesn't turn up, Somu continues his search for her.
The film was theatrically released on 1 July 2022.
Directed by Anji
Story by Vennela Ramarao
Produced by Achut Rama Rao P. & Ravi Teja Manyam
Starring Sriram, Avika Gor, Srinivasa Reddy, Vennela Ramarao, Himaja, Archana
Cinematography Anji
Edited by Prawin Pudi
Music by S. Chinna
Production Anvitha Avani Kreation & SR Movie Makers
Distributed by Ajay Mysore Productions
Release date 1 July 2022
Country India
Language Tamil