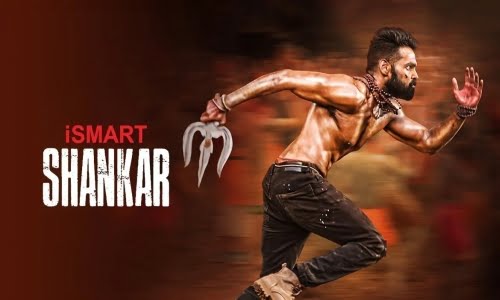 iSmart Shankar is a 2019 Indian Telugu-language science fiction action film written and directed by Puri Jagannadh, who co-produced the film with Charmme Kaur. It stars Ram Pothineni in the titular role along with Satyadev Kancharana, Nabha Natesh, and Nidhhi Agerwal. The film follows a contract killer who helps the police when a slain police officer's memories are transferred to his brain. iSmart Shankar is loosely based on the plot of the 2016 American film Criminal and 2017 British film iBoy.  iSmart Shankar features music composed by Mani Sharma.
Shankar is a street-smart Hyderabadi contract killer who works under Kaka. Under Mama's orders, he murders a high-profile politician named Kasi Viswanath. Vishwanath's son Devendra and his brother in law Ramamoorthy swear revenge on Shankar. The film opens with Shankar escaping from jail while being chased by the police. He beats up the police and escapes in a truck where he recollects the past
While extorting money from an apartment builder, he encounters Chandni, a girl just as rough as him who even goes to the extent of slapping Shankar. Impressed, he falls for her, and after a few altercations, she reciprocates. Once Shankar murders Kasi Vishwanath on Kaka's orders, he escapes to Goa with Chandni. However, the police find out his location and track him down. While escaping, Chandni is shot and killed. Shankar is beside himself with grief and swears to kill the person who killed her.
In a parallel storyline, Sara is a neuroscientist who is working on memory transfer and has achieved successful results with rats. Her boyfriend, Arun, is a CBI officer who is trying to crack the case of the murder of Kasi Vishwanath. He believes there is a higher force that planned and killed him.
Shankar finds out that Kaka was ordered to kill him as well and murders Kaka when he plans to escape in Sarah's car. He flees while Sarah calls Arun. Arun catches a guy running, but the guy is killed when a car hits him. Arun's higher-ups are after him to find the killer, and while Arun is about to crack the case, he is shot and killed by goons. The CBI is desperate to know who the murderer is, so with Sarah's help, they transfer Arun's memory to Shankar, knowing full well doing so will remove his past.
Shankar wakes up and experiences shocks and memories that aren't his own. He gets enraged when Sarah reveals the truth to him and realizes that he will forget Chandni in a few days. He experiences brief flashes where he becomes Arun but reverts to being Shankar.
He finds Arun's house and discovers a bag that has all the proof of who the murderer is, then he calls the Commissioner to meet him in the Goa where he tells that the murderer's are Devendra and Ramamurthy after few minutes, Shankar reverts, beating all the cops taking Sara at knife point he escapes and after a few events Arun reverts with the help of Commissioner. he makes a plan to arrest Devendra and Ramamurthy with all the proof in Banras, but as they expose Devendra try to run. Arun follows him, but as Devendra and his men continuously beat Arun in his head, Shankar reverts, and Sara tell him that Devendra is the only person responsible for his Chandni's murder. After a tragic and dramatic fight between Shankar and Devendra, Shankar killed Devendra and completed his vow. Sara and Arun then go to Hong Kong on vacation, where Arun proposes to Sara as he promised her to marry him on 14 February.
In a post credit scene, we see, while kissing Sara, Arun gets shocked in his mind.
Directed by Puri Jagannadh
Written by Puri Jagannadh
Produced by Puri Jagannadh, Charmme Kaur
Starring Ram Pothineni, Satyadev Kancharana, Nabha Natesh, Nidhhi Agerwal
Cinematography Raj Thota
Edited by Junaid Siddiqui
Music by Mani Sharma
Production Puri Connects & Puri Jagannadh Touring Talkies
Release date 18 July 2019
Running time 141 minutes
Country India
Language Tamil