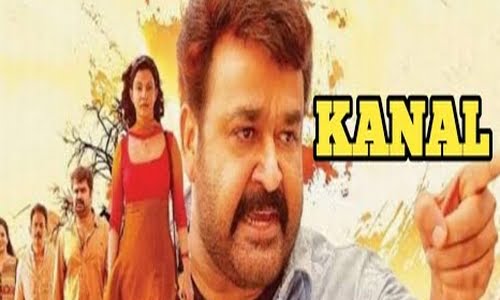 Kanal (Eng: Ember) is a 2015 Indian Malayalam-language thriller road movie, directed by M. Padmakumar and written by S. Suresh Babu. The film stars Mohanlal and Anoop Menon in lead roles with Atul Kulkarni, Pratap Pothen, Honey Rose, Sheelu Abraham, and Nikita Thukral in supporting roles. The film was produced by Abaam Movies in association with Aashirvad Cinemas. Ouseppachan and Vinu Thomas composed the soundtrack. The principal photography commenced in May 2015 in Kochi and completed in August. Kochi, Hyderabad, Karwar, Goa and Qatar were the filming locations. The film released in India on 22 October 2015.
The story is set against the backdrop of a global recession in the United Arab Emirates. The story revolves around a thriller –- revenge plot that has resulted from the recession. The story explores the basic nature of cruelty and love in human nature through the lives of four individuals: John David, Ananda Raman, Raghuchandran and Kuruvila Mathew.
The story starts in a train journey, where John David, Ananda Raman are travelling in the second class. John talks to various passengers, picks up a conversation with Anantharaman and tells him, that he has seen him somewhere. The train breaks down and everyone gets down to have refreshment. John suggests Ananda Raman, that they hop on to a passing lorry and then take a taxi. Meanwhile John identifies him as the owner of Pravasi Malayalam channel in Dubai sometimes back. They reach a nearby town by lorry and take a room in a local lodge. That night they drink together and shares each other's story. John works as an animator, in a big concern. During his childhood he fell in love Anna in Assam. He lived in orphanage where Anna used to visit with her father. When he was ten years, her family moved due to her father's transfer. John studied and moved out of orphanage, got job. Later at the age of 36, he moved to Dubai for a job, there he meets Anna again. He learns that she is married. At times, he meets her. Suddenly Anna and her husband meets with an accident where her husband dies. John feels lucky, proposes to Anna after all the rituals get over. He feels that life has given him his chance for waiting so long. He marries Anna. Now he asks Ananda Raman, as why is he upset and what is bothering him. Ananda Raman shares his flashback. He runs a channel in Kerala, where all news is given accurately. He takes the loan and arranges for fund, and opens a new channel in Dubai. His wife asks him if this move is required and is it safe. He wants to make big in life. He moves to Dubai to run the channel. A big recession strikes UAE where almost all contractors lose their job and are asked to leave. Most of their visas are cancelled and are deported asap. Ananda Raman's channel keeps capturing this news. He also runs short of fund for the channel and is unable to pay the debt, and one day he has to return to Kerala. His sudden visit worries his wife. The money lenders chase him over phone and threatens, he changes his house, phone number. He and his wife have a heated argument and he leaves the house. Now he is on the run.
John suggests him that, if he accompanies him to Karwar the next day, who knows god might give him the money he needed. They both go to sleep and head to Karwar next day morning by a car. They arrive at an estate, meets Raghuchandran and his family. John and Raghu's daughter met in Facebook a year back and had been talking on a resort proposal. This meeting is to materialize that. The daughter and John shares an intimate moment. A big party hosted. Later that night after everyone leaves, John threatens Raghu and asks to transfer all his money to an account, after showing him a photo. Raghu is shocked. He obliges and his wife is also next to him. they hand over all the cash at home to him. His daughter walks to that room and get shocked too by seeing the photo. Once the money is transferred, John kills all three of them. John calls Ananda Raman on his cell and asks him to join upstairs. Once he reaches he shoots a video of him holding the dying daughter. Now they both pack up and leave from there. Ananda Raman shouts in the car while travelling. John stops the car, Ananda Raman gets out of the car, and argues with him. John yells saying that, its is fate to be here. Throws a bag at him which has money and leaves from there. Meanwhile, an actress is found dead near a train track in her car. Her husband Kuruvila Mathew is informed, he flies from UAE to India for the identification. He watches all the CCTV footage after he gets to know that all the money in his account has been transferred 30 minutes before her death. He finds a man in the video, spending lot of time with his wife in their house. Kuruvila calls Raghu and tries to inform, but it was too late. Kuruvila reaches Karwar to find out all three are dead. Here also he watches the party video recording and finds the same person. He tries to track him down after seeing Ananda Raman next to the new person.
Ananda Raman after reaching his home, reconciles with his wife, his father-in-law promises to help him out of debt. He hides the money which was given by John. Kuruvila gets in contact with Ananda Raman, meets him and tells that he saw the video recording. He also tells that he is John's next target. Ananda Raman confesses that he has no knowledge of why John is doing this. Later that day, Ananda Raman sees John following Kuruvila, and he also follows. All three reach Kuruvila's house. John asks Kuruvila to confess what he knows.
Kuruvila shares that, during the recession both Kuruvila and Raghu with their families were to be deported, when Anna's father saw them in the high commission and helped them to arrange the visa. Both families did not want to go out of UAE, they were paranoid about the fact to return to India and do what for their living. They were jealous on Anna's family of how rich they were and how sophisticated they were. That's when they planned to murder the whole family after looting their money.
John told that the family killed by Kuruvila and the others was his wife, her father, mother and four infants. Kuruvila and his wife threatened Anna's father to transfer the money and asked them to board the car. Once all of them boarded, they filled the car with carbon monoxide and killed them. They escaped with more than 35 million.
When this news reached John who was in Assam for a project, he travelled back and started digging as the money went missing. He was devastated to see his infants in the mortuary. He has not even met them due to his tight deadline in the project. Hence he traced all the clues, tracked each one of them and took revenge for what was done to his family. He befriended Raghu's daughter over Facebook and earned her trust, meanwhile kept meeting Kuruvila's wife, impressed her, gained her trust and made her transfer the money, after which he killed her in the car, by suffocating her with John's hand, seen him wearing a glove and covers the murder by making the car filled with carbon monoxide, to disguise the murder, making it seem like an accident.
Next was Raghu's family at Karwar, now Kuruvila. He makes him drink poison. He falls down, dead from the chair he was sitting on after drinking. Now he holds his leg and tells, you are finished John. John tells Ananda Raman that he has been the witness as the Anna family car accident case was brainstormed in Ananda Raman's channel in UAE, where he gave a verdict as accident. Kuruvila's wife indirectly paid him to give such verdict.
Kuruvila livecasted this whole thing in Facebook from his CCTV. The case was dismissed, after a few years. Ananda Raman, is a book writer now, he is nominated for his book Paid news is paid murder. He thanks John for all his support and guidance in another train journey.
Directed by M. Padmakumar
Screenplay by S. Suresh Babu
Produced by Abraham Mathew
Starring Mohanlal, Anoop Menon, Atul Kulkarni, Pratap Pothen, Honey Rose, Nikita Thukral, Sheelu Abraham, Gowri Nandha
Narrated by Prithviraj Sukumaran
Cinematography Vinod Illampally
Edited by Ranjan Abraham
Music by Ouseppachan & Vinu Thomas
Production Abaam Movies & Aashirvad Cinemas
Distributed by Maxlab Cinemas and Entertainments (India)
Release date 22 October 2015 (India)
Running time 158 minutes
Country India
Language Tamil