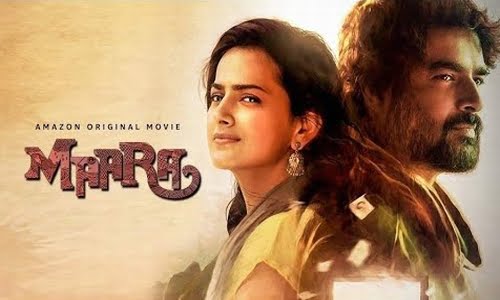 Maara is a 2021 Indian Tamil-language romantic drama film directed by Dhilip Kumar in his directorial debut, and produced by Prateek Chakravorty and Shruti Nallappa of Pramod Films. An adaptation of the 2015 Malayalam film Charlie by Martin Prakkat, the film stars Madhavan, Shraddha Srinath and Sshivada, reprising the roles played by Dulquer Salmaan, Parvathy Thiruvothu and Aparna Gopinath in the original counterpart.
Parvathy (Shraddha Srinath) a.k.a Paaru, is a restoration architect who comes to a small coastal village in Kerala for a project, while avoiding a marriage set-up back home. She finds a fairy-tale she had heard long ago as a child painted across the village. With the help of her friend, she ends up renting a house, filled messily with art and artefacts. She learns that it belongs to an artist named Maara (Madhavan) who is responsible for the paintings across the village. Maara is a free spirit and traveller who is often away visiting various places and returning as he pleases. When she starts cleaning up the place, she finds Maara's photo and a sketchbook. The sketches depict the previous New Year's Eve when a small-time thief (Alexander Babu) tried to rob Maara. In a turn-of-events, Maara joins the thief, and they both go on the rooftop of a home with a plan to rob the place. There, they see a woman about to shoot herself. The sketchbook ends there, and the story is left unfinished, which piques Paaru's curiosity about the rest of the story, and Maara as a person.
Intrigued, Paaru starts finding the people in Maara's sketches. Backtracking his steps, she meets an antique dealer, Usman bhai, a "pirate", Chokku and learns about Selvi (Abhirami), a physically abused woman that Maara had known. Maara and Chokku had taken Selvi out to sea for her birthday where after having an evening that alleviated her sorrows, Selvi committed suicide. Maara then ensures that her daughter, Rani is enrolled into a school. When Paaru gets news that Rani has gone missing from her school, she traces her back to her father's lodge. Meanwhile Maara, who has returned to the village, tracks Rani down to the lodge and rescues her from her abuser. Paaru gets a glimpse of Maara but just misses an encounter with him.
One day, she meets the thief depicted in the sketches and enquires about that day's events. He informs her that Maara stopped the woman from shooting herself, and followed her when she started to run away from him. They find the house and finally identify the woman as Doctor Kani (Sshivada). Paaru then tracks her to a mountain village and enquires about her story. Kani explains that when she performed her first independent operation as a paediatrician, a surgical error led to the death of a 10-year-old girl. Further slandered by the media, she was desperate and about to commit suicide on New Years' Eve when she was by chance, stopped by Maara. Maara then brings her to his mountain village, maintained by Vellaiya (Moulee), his foster father, and she has since been living there. Vellaiya, a retired postmaster and a hopeless romantic, has been searching for his teenage love Meenakshi for nearly fifty years. Vellaiya constantly tells the story of acting out a play to convey his love to Meenakshi, and eventually losing her when a storm flooded his home village.
When Vellaiya shows Paaru a photo of Meenakshi, she notices that she has on the same pendant of a conch as her aunt, Mary, who is a nurse at a convent. She brings her Aunt Mary to the village on Vellaiya's birthday, realising that the plot of his play is the fairy-tale she had heard as a child from Aunt Mary – a story of an immortal soldier who spends years looking for his beloved mystical fish. An emotional Velliya, who has spent all his adult life travelling from place to place in search of Meenakshi, thanks Paaru for fulfilling Velliya's wish. Paaru, who has chased one story after another in an attempt to find Maara, finally meets him in person. They introduce themselves and hold hands as they watch the sun set.
Directed by Dhilip Kumar
Produced by Prateek Chakravorty & Shruti Nallappa
Written by Bipin & Dhilip Kumar
Based on Charlie (2015 Malayalam film) by Unni R.
Starring Madhavan, Shraddha Srinath, Sshivada, Abhirami, Mouli
Music by Ghibran
Cinematography Dinesh Krishnan & Karthik Muthukumar
Edited by Bhuvan Srinivasan
Production Pramod Films & SP Cinemas
Distributed by Amazon Prime Video
Release date 8 January 2021
Running time 150 minutes
Country India
Language Tamil