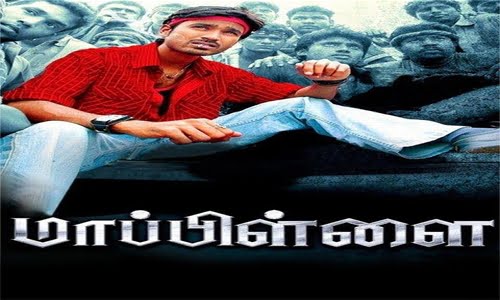 Mappillai (Eng: Son-in-law) is a 2011 Indian Tamil-language action comedy film directed by Suraj, starring Dhanush as the son-in-law and Manisha Koirala as the mother-in-law with Hansika Motwani, in her Tamil debut, playing her daughter. Mappillai is a reboot of the 1989 film of the same name, which itself was remake of Telugu film Attaku Yamudu Ammayiki Mogudu. Distributed by Sun Pictures, it was released on 8 April 2011. The film was a decent hit at the box office but received mixed reviews. It completed its 50 days of theatrical run.
Saravanan is a do-gooder who is soft-spoken and admired by one and all. Another person named Child Chinna is the head of the Namitha Fan Club in his area. The two of them come across Gayathri, the daughter of an arrogant businesswoman named Rajeshwari. Chinna falls for Gayathri, so he tries several plans to get close to her, but in vain.
Gayathri falls for Saravanan after he saves her from an accident. Coming to know of their affair, Rajeshwari decides to have them marry. The reason is that she is keen on getting a son-in-law who will always do what she wants and be under her control.
However, Rajeshwari is in for a shock when she learns that Saravanan has a past. He is a much feared ruffian. Now she plans to halt all plans, while Saravanan overcomes her plans with ease. Rajeshwari takes steps to get her daughter Gayathri married to Devaraj's son Aathi. Saravanan challenges Rajeshwari to abduct the bride. But at a time when none of them expected the wedding, he kidnaps the groom. In the confusion of Devaraj rescuing his son, Saravanan defies Rajeshwari and ties the thaali around Gayathri's neck with her consent on the same stage in front of everyone. Later, Rajeshwari takes Saravanan to her house with his wife Gayathri. Rajeshwari tries not to let the two live together. But, Saravanan breaks it all and starts his married life with Gayathri.
At last, he learns that Rajeshwari had humiliated his parents when they ask her to accompany them to their village festival. He makes a plan to take her whole family to his village and make them stay there in his ancestral house with the help of Rajeshwari's astrologer, and further, he plans to arrange for his sister's marriage with Rajeshwari's son. Saravanan tricks Chinna to act a wealthy businessman named James Pandian, to which Chinna agrees. Later, Rajeshwari knows the truth about James. She insults him and his family in front of the whole village and leaves.
Later, she and Gayathri are caught by some goons, but Saravanan saves them and reconciles with his family.
Directed by Suraj
Produced by Nemichand Jhabak & Hitesh Jhabak
Starring Dhanush, Hansika Motwani, Manisha Koirala
Cinematography S. R. Sathish Kumar
Edited by Kishore Te.
Music by Mani Sharma
Distributed by Sun Pictures
Release date 8 April 2011
Country India
Language Tamil