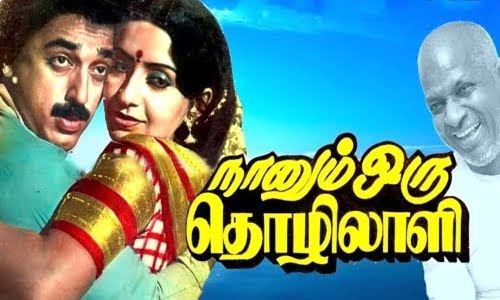 Naanum Oru Thozhilali (Eng: I am also a worker) is a 1986 Tamil-language drama film directed and produced by C. V. Sridhar. The film features Kamal Haasan and Ambika in the lead roles while Jaishankar, V. S. Raghavan and Devika play supporting roles.
The film was also simultaneously shot in Telugu as Andarikante Ghanudu. Murali Mohan plays supporting role in Telugu version. Tamil version film was released on May 1, 1986.
Bharath (Kamal Haasan) returns to India from his studies abroad after his father Yoganand (Veera Raghavan) dies in a car accident. The family's factory is run by the father and son team of Rammohan (V. S. Raghavan) and Sundar (Jaishankar). They are looting from the factory and treating the workers poorly.
Kumar (Rajeev) works at the factory and often clashes with Rammohan and Sundar. The duo accused Kumar's older brother of running away with stolen company cash but Kumar does not believe this.
He is also suspicious of Yoganand's death and is trying to investigate.
Bharath falls in love with factory worker Meena (Ambika), soon after his arrival in India. He also quickly realizes that something is amiss with the factory and his father's accident.
With the help of Meena, he poses as factory worker Raju to investigate matters. He soon learns that Kumar is an ally and the two work together to get to the bottom of the mystery.
Directed by C. V. Sridhar
Produced by C. V. Sridhar
Written by C. V. Sridhar
Starring Kamal Haasan, Ambika, Jaishankar
Music by Ilaiyaraaja
Cinematography P. Bhaskar Rao
Edited by M. Umanath
Production Chitralaya Films
Distributed by Chitralaya Films
Release date 1 May 1986
Country India
Language Tamil