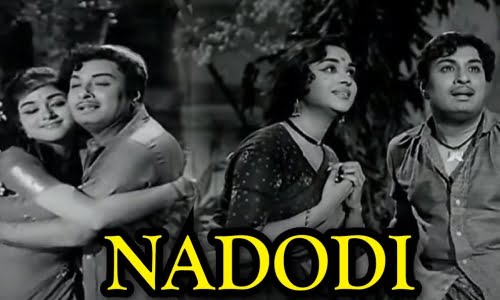 Nadodi (Eng: Vagabond) is a 1966 Indian Tamil-language film, produced and directed by B. R. Panthulu. The film stars M. G. Ramachandran, B. Saroja Devi and Bharathi in her acting debut. It was released on 14 April 1966, and became a modest commercial success.
Thyagu remains inconsolable since Meena, his lover, committed suicide because of her father, the wealthy Dharmalingam. The latter categorically refused Meena's marriage to her beloved Thyagu, under the pretext that Thyagu belongs to an oppressed caste, while the same father, an activist speaker travels the country, by crying out, by preaching, to anyone who might be listening the virtues of the abolition of the caste system.
To trap him, confront his hypocrisy and to honour her older sister, Radha, the second daughter of Dharmalingam leaves upon meeting the mysterious benefactor that seems to be Thyagu, and decides to marry him. Indeed, this good model son, adoptive, gave up his immense heritage, preferring to bequeath integration to the blue-collar workers of his late father. Thyagu ends up leaving the family field and is put in search of plenitude, by making of course its passage.
Radha meanwhile, falls into the claws of Jambu, a former gardener, who holds her because of the misfortunes caused by her father, particularly the death of his mother and her little sister. In reprisals, by reminding the contemptible words uttered by Dharmalingam against his blind little sister, Jambu decides to return the similar one. He deprives Radha of her sight and puts her at the street corner to beg. Later, the ways of Radha and Thyagu cross. Alas, neither one, nor the other can be recognised, be identified about it.
Directed by B. R. Panthulu
Story by G. Balasubramaniam
Produced by B. R. Panthulu
Starring M. G. Ramachandran, B. Saroja Devi, Bharathi
Cinematography V. Ramamoorthy
Edited by R. Deva
Music by M. S. Viswanathan
Production Padmini Pictures
Release date 14 April 1966
Running time 155 minutes
Country India
Language Tamil