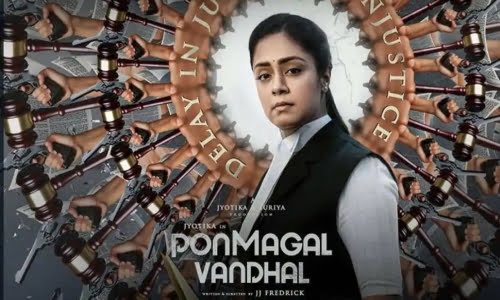 Ponmagal Vandhal (Eng: The Golden Girl has Arrived) is a 2020 Indian Tamil-language legal drama film written and directed by J. J. Fredrick in his debut, and produced by Suriya. The film stars Jyothika leading an ensemble cast including K. Bhagyaraj, R. Parthiban, Thiagarajan, Pandiarajan and Pratap Pothen. Ponmagal Vandhal premiered digitally on 29 May 2020 on Prime Video.
In 2004, a North Indian woman named 'Psycho' Jothi is convicted for the murder of 2 young men, Rohit and Diwakar, and the kidnapping and serial killing of numerous young girls, and is revealed to have been killed in an encounter when she attempted to escape. 15 years later, A resident in Ooty named 'Petition' Pethuraj (K. Bhagyaraj) reopens the case, citing that Jothi is innocent and he wishes to pose a defense for her. Venba (Jyothika), Pethuraj's daughter and an amateur lawyer, seeks to revive the case amidst oppositions. After proving that the main eye witness, Ramar, who had testified against Jothi, was in Chennai at the time of the murder, and that he was merely a character fabricated by the investigating officer DSP R. Alexander (Subbu Panchu), Venba is successful in getting a second hearing. This leads to the public prosecutor (Gajaraj) being replaced with Rajarathinam (R. Parthiban), a renowned criminal lawyer appointed by a businessman named Varadharajan (Thiagarajan), Rohit's father.
Rajarathinam is successful in proving that Venba's claims that Ramar was an illegitimate witness is false by nullifying the alibi Venba had discovered. During the next hearing, Venba reveals that Jothi was not a North Indian immigrant, but was in fact a Tamilian woman whose name was Sakthijothi. Sakthijothi had eloped with a man from a different caste and moved to Jaipur in the early 1990s, and as a result, her husband was murdered by her father and relatives in the name of honor killing. Venba asks Pethuraj to take the stand, who then testifies that a pregnant Sakthijothi had come to Ooty seeking refuge, and began to stay with Pethuraj and his wife Philomina (Rindhu Ravi). One day several years later, Pethuraj heard Sakthijothi's daughter's screams from the road outside the house, and witnessed Sakthijothi chasing after a car in which her daughter was being taken away, which is shown to have been Rohit and Diwakar's. Venba then shows another video footage of Jothi running with a young girl, saying that Jothi did not try to kidnap her, as the girl was Jothi's daughter, revealing that she is in fact Sakthijothi's daughter, Venba Sakthijothi. Upon confronting Varadharajan for hiding various details about the case, Rajarathinam is made to meet Alexander, who reveals several facts about the case that were never bought into light. It is revealed that Jothi had discovered the whereabouts of a dilapidated bungalow in Lovedale, which is said to have been a hide-out for Rohit and Diwakar, who used to kidnap and rape young girls there. The corpse of a young girl was found buried outside the bungalow, who was later identified as Angel, a girl who had gone missing during a school convention. Venba claims that Alexander had committed perjury when he testified that he had arrested Jothi in Tiruppur, revealing that the arrest was made by Sub-Inspector Suresh Pandian (Jeeva Ravi). However, when she requests to summon Suresh Pandian to testify in the next hearing, Rajarathinam reveals that Suresh Pandian had committed suicide the previous night owing to work-pressure. Venba and Pethuraj are at a loss as Suresh Pandian was the ace up their sleeve. After going through an emotional setback, Venba reveals in the next hearing that she was brutally raped by Rohit and Diwakar, going on to reveal that the conviction of Jothi and the death of Suresh Pandian was all a conspiracy by Varadharajan to save his son's and his own reputation, and that DSP Alexander and the entire investigation team were in on the plot, but says she cannot prove this. However, she receives immense support from the public after this, majority of who believe in Jothi's innocence. On the day of judgement, the judge (Pratap K. Pothen) has a change of heart and summons Varadharajan to be present at the next hearing to testify. However, the judge goes on to take a bribe from Varadharajan, promising a favorable verdict, an action which is looked down upon by the former's friend, Karpooram (R. Pandiarajan), who reprimands him.
At the next hearing, Varadharajan takes the stand, and Venba openly accuses him of being a cutthroat criminal who has been building his reputation by silencing all those of who have raised their voice against him. The judge disallows Varadharajan to leave the courtroom until Venba's interrogation is complete, implying that he has reformed. Venba then introduces a witness who she says can confirm Varadharajan's presence at the tea factory where Jothi was shot dead, and disrespectfully asks Varadharajan why he was present there. Varadharajan then mocks the judicial system in anger, saying that they cannot convict him of anything. Venba then paints a picture of the entire crime that took place in 2004. After chasing the car in which Venba was kidnapped, a distraught Sakthijothi ran across the hamlet looking for her daughter, eventually discovering the bungalow outside which she finds Venba's clothes. She goes inside to find Venba struggling for life, and finds the corpse of another girl, who is revealed to have been Angel, who she then burries outside the bungalow. While attempting to make her way back home, she is intercepted by Rohit and Diwakar, and manages to get hold of Rohit's pistol, using which she shoots both of them dead. Despite Pethuraj's reservations, Sakthijothi hands Venba over to the couple, asking them to take care of her, and surrenders herself to Suresh Pandian. Upon Alexander's orders, an oblivious Suresh Pandian brings Sakthijothi to the tea factory, where she is shot dead by Varadharajan himself. Rajarathinam does not make a rebuttal, and Varadharajan is convicted. At a memorial service for Sakthijothi, Rajarathinam reveals to Venba that he is aware that she is not Sakthijothi's daughter, but the young girl Angel. It is revealed that upon arriving at the bungalow, Sakthijothi (Vidya Pradeep) had found not Angel, but Venba to be dead. After burying her daughter's corpse, Sakthijothi had saved the distraught Angel and killed the 2 young men. Upon Rajarathinam questioning why she did so much for a woman she did not even know, Angel reveals that the pain that she and Sakthijothi suffered were the same and that she will continue to live on as Sakthijothi's daughter Venba.
Directed by J. J. Fredrick
Produced by Suriya
Starring Jyothika, K. Bhagyaraj, R. Parthiban, Thiagarajan, Pratap K. Pothen, R. Pandiarajan
Music by Govind Vasantha
Cinematography Ramji
Edited by Ruben
Production 2D Entertainment
Distributed by Prime Video
Release date 29 May 2020
Running time 120 minutes
Country India
Language Tamil