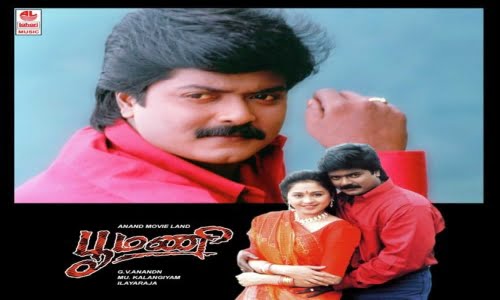 Poomani is a 1996 Indian Tamil film, directed by Kalanjiyam and produced by G. V. Anandan. The film stars Murali, Devayani, Prakash Raj and Reshma in lead roles.
The 1999 film Vaali had the similar storyline to this film. The film had musical score by Ilayaraja.
When Thangamani flees on his wedding day, his brother, Poomani, steps in and marries Vijaya the bride who detests him.
However, as time passes by, she changes her thinking towards him.
Directed by Kalanjiyam
Produced by G. V. Aanandan
Written by Kalanjiyam
Starring Murali, Devayani, Prakash Raj, Reshma
Music by Ilayaraaja
Cinematography R. M. Ramnath Shetty
Edited by Peter Bhabiah
Production Aanand Movie Land
Distributed by Aanand Movie Land
Release date 6 December 1996
Running time 139 minutes
Country India
Language Tamil