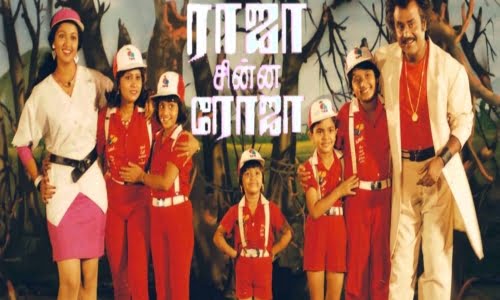 Raja Chinna Roja (Eng: King and small rose) is a 1989 Indian Tamil-language children's film, directed by S. P. Muthuraman, and produced by M. Saravanan and M. Balasubramaniam of AVM Productions. The plot revolves around Raja (Rajinikanth), who arrives in the city to become an actor. In the process he meets his childhood friend and is forced to take care of his nieces and nephews.
Raja Chinna Roja was the first Indian film to feature live action with animation. The film's cinematography was handled by T. S. Vinayagam, while the editing was done by the duo R. S. Vittal and Lancy respectively. The soundtrack was composed by Chandrabose, with the song "Superstar Yaarunu" remaining popular today.
Raja Chinna Roja was released on 20 July 1989. The film was commercially successful, and had a 175-day theatrical run.
An aspiring actor Raja (Rajinikanth) from a village get into a fast city which is full of crooks and drug dealers. As he searching for a place in the dream factory, he falls for the daughter of the house owner (Jaiganesh) Usha.
Charmed by his looks and character, Usha (Gowthami) also falls for him. One day he accidentally meets his childhood friend Bhaskar (Raghuvaran), who is a spoiled rich guy. He offers Raja an acting job, then takes him to his uncle's house.
Raja is to be in charge of the administration of the household and take care of five children (Bhaskar's nieces and nephews), each of whom have issues (such as being lazy, not studying etc.). Raja finds out that Bhaskar is cheating his uncle out of funds and using him to do the same.
Bhaskar is involved in drug business along with his associates (Azhagu, Kitty). Ravichandran who gets temporary blindness, recovers from the problem and pretends to be blind in order to find out the truth of Bhaskar. After finding out the truth, Ravichandran throws Bhaskaran out of the home.
In retaliation, Bhaskar takes away his uncle's car resulting in Ravichandran getting arrested for drugs. Raja, along with the children goes to Bhaskar's den and catches him red-handed. The film ends with Raja finally achieving his ambition to become a film star.
Directed by S. P. Muthuraman
Produced by M Saravanan & M. Balasubramaniam
Written by Panchu Arunachalam
Starring Rajinikanth, Gautami, Raghuvaran, Ravichandran, Shalini
Music by Chandrabose
Cinematography T. S. Vinayagam
Edited by R. Vittal & C. Lancy
Production AVM Productions
Release date 20 July 1989
Running time 145 minutes
Country India
Language Tamil