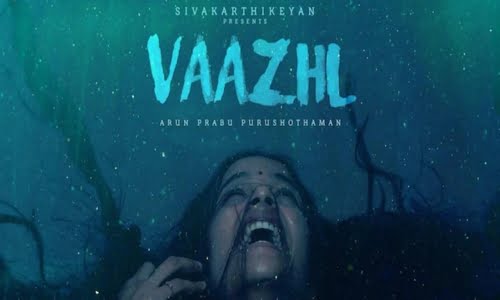 Vaazhl (Eng: Live) is a 2021 Indian Tamil-language drama film directed by Arun Prabu Purushothaman and produced by Sivakarthikeyan under his banner Sivakarthikeyan Productions. Vaazhl features a predominantly new cast and crew, which includes Pradeep Anthony, TJ Bhanu, Diva Dhawan, Aahrav and SN Bhatt in prominent roles. The film's music is composed by Pradeep Kumar, with cinematography handled by Shelly Calist and editing done by Raymond Derrick Crasta.
Vaazhl released through the streaming service SonyLIV on 16 July 2021, as a theatrical release planned earlier was failed to happen due to COVID-19 related cinema closures. The film opened to positive reviews from critics, praising the performances of the cast members, storyline, direction, music and cinematography, but criticised the lack of depth and the slow-paced narration in the second half.
Prakash is an IT programmer living with his parents and younger sister. His day-to-day life is dull and monotonous, his professional life is a mess and his love life is not exciting. Prakash's other sister who lives abroad is pregnant and his parents visit her to help with her delivery.
Prakash meets Yathramma (she is only known as Yathra's mother throughout the movie) at a relative's funeral and is smitten by her beauty at first sight. To his disappointment, he finds that she is older than him, is married and has a son, Yathra. Yathra has ADHD disorder and is extremely hyperactive and destructive, but Yathramma is very protective of him, even to her husband. One night, when Yathra throws a tantrum, his father loses his patience and threatens him to sleep in his own room. Yathramma tries to stop him but he is angry at her as well. The argument leads to a violent confrontation when Yathramma hits her husband with a piece of wood and kills him by accident. She panics, hides his dead body in the fridge, takes some money and leaves with Yathra in her car. She lands on Prakash's doorstep under the guise of borrowing money and asks Prakash to take care of Yathra for a few hours. She finds that Prakash has been patient in spite of Yathra's destructive behavior. Yathramma requests Prakash to accompany them to Nagercoil to return the borrowed money to her friend. Prakash is unable to resist her innocent charm and agrees. During their travel, Yathramma insists that Prakash take longer routes and they go from city to city. Prakash eventually becomes suspicious of Yathramma's intentions and asks her the real reason. But she uses her vile charm to shut his questions down yet again. They become close after this and make love. However, Yathramma attempts suicide the next day, but the locals of a town save her. When Prakash questions her this time around, Yathramma comes clean about murdering her husband and tells that since they have become so close, she feels that she can now leave Yathra under Prakash's care and die. Prakash is shocked at this and wants out, but she indirectly threatens him using a phrase she taught Yathra to tell everyone. When asked, Yathra shouts that Prakash and Yathramma had sex. Prakash is scared out of his wits and stops the car to get water. Yathra goes with him leaving Yathramma behind, when a truck hits the car and kills Yathramma instantly.
Prakash is horrified at the terrible turn of events and is left with no choice but to take Yathra with him. When questioned by the police, Yathra relays the entire story, that Prakash had sex with his mom and his real father is dead. Prakash is arrested and the police also arrest a Bolivian woman Tanya, with fake passports and take them both to the police station. Tanya fights the cops and forces Prakash to escape along with Yathra. They reach a resort where Tanya helps Prakash calm down. In a bid to escape the police, she uses fake passports and takes Prakash and Yathra to Papua New Guinea. She encourages Prakash to travel, live his life and explore nature to achieve fulfillment in life. Their adventures take them across land, water, mountains and rivers to explore.
Meanwhile in India, the police find a video confession from Yathramma proving Prakash's innocence. His parents try to reach him desperately, but Tanya, Yathra and Prakash travel to a remote village and spend time with the aborigines. Tanya receives a call to travel elsewhere, so she leaves Prakash and Yathra, knowing fully well that Prakash is now confident enough take care of himself. Prakash and Yathra then travel to another remote island and continue their adventure. On one such river rafting trips, their raft capsizes and Prakash is thrown off the river and goes down a waterfall. Yathra is stuck in the shallow water and moves to land by himself and wanders alone in the forest. Prakash gets his leg stuck under a rock and faints, but he regains consciousness and manages to get himself out of the water. He searches for Yathra and finally finds him, realizing that he has grown to love Yathra as his own child. They travel back to India, where Prakash's family accepts Yathra. Prakash returns to work a transformed person and is able to achieve success. He fondly reminisces his experience with Yathramma and his adventures with Tanya, her words resounding in his mind, reminding him to take time off for himself no matter how important his work and family are.
Directed by Arun Prabu Purushothaman
Written by Arun Prabu Purushothaman
Produced by Sivakarthikeyan
Starring Pradeep Anthony, TJ Bhanu, Diva Dhawan, Aahrav
Cinematography Shelley Calist
Edited by Raymond Derrick Crasta
Music by Pradeep Kumar
Production Sivakarthikeyan Productions & Madhuram Pictures
Distributed by SonyLIV
Release date 16 July 2021
Running time 114 minutes
Country India
Language Tamil