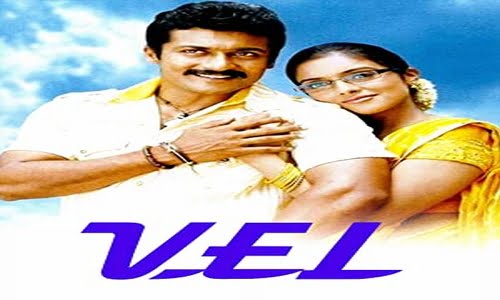 Vel (Eng: Spear) is a 2007 Indian Tamil-language action film written and directed by Hari and produced by Mohan Natarajan. It stars Suriya in a double role as identical twins as protagonists, Asin as the female lead, and Kalabhavan Mani as the antagonist.
It also features Vadivelu, Lakshmi, Saranya Ponvannan, Charan Raj, Ambika, and Nassar in supporting roles. The film's score and soundtrack was composed by Yuvan Shankar Raja. Priyan handled the cinematography, while V. T. Vijayan handled the editing.
The film released on 8 November 2007, coinciding with Diwali. The film was later dubbed and released in Telugu as Deva and in Hindi as Main Faisla Karunga in 2014.
Thiyagarajan (Charan Raj) and Sharadha (Saranya Ponvannan), a couple who have twins, lose one of them while traveling between Tirunelveli and Chennai.
The child stolen by a beggar for its gold chain is abandoned at the door of a rich feudal landlord. He is brought up in the family as Vel (Suriya) and becomes the darling of everybody including Appatha (Lakshmi), the family head.
Meanwhile the other twin grows up and becomes a private detective Vasu (Suriya), who falls in love with a television hostess, Swathi (Asin). At the same time Vel is given a tough time by Sakkara Pandi (Kalabhavan Mani), a former minister and local strongman who has his own axe to grind. The twins meet, swap their roles and unite to fight the villain.
Directed by Hari Krishna
Produced by M. Chinthamani
Written by Hari Krishna
Starring Suriya Sivakumar, Asin Joseph, Vadivelu, Kalabhavan Mani
Music by Yuvan Shankar Raja
Cinematography Priyan Kumar
Edited by V. T. Vijayan
Production Sree Rajakaalaiamman Medias
Distributed by Kalasangham Films
Release date November 8, 2007 (India)
Running time 170 minutes
Country India
Language Tamil