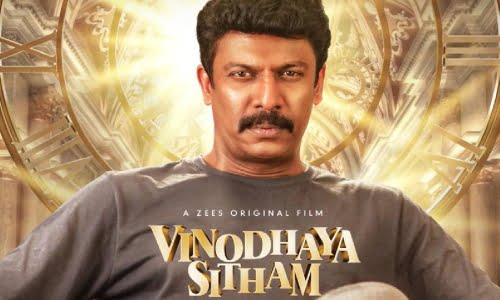 Vinodhaya Sitham (Eng: Strange Decision) is a 2021 Indian Tamil-language fantasy drama film directed by Samuthirakani and produced by Abirami Media Works. The film stars Thambi Ramaiah and Samuthirakani. It was released on 13 October 2021 on ZEE5, and received critical acclaim.
Parasuram is an assistant general manager in an MNC in Chennai, with an ambition of getting promoted to general manager. He is a dominating individual who puts his own interests ahead of others, including that of his own family, comprising his wife Easwari, daughters Veena and Gayathri, and son Arun, who is working in the United States. Once while returning from Coimbatore, Parasuram meets with an accident and dies. When he wakes up, he finds himself in a strange dark place, where a gentleman approaches him and introduces himself as Time. Time informs Parasuram that his time at Earth is over. On hearing this, Parasuram begs him to return him to life so that he can rectify some mistakes he made in his life, before leaving the world. Time agrees, but gives him only three months time and on the condition that he is always with him. Thus, Parasuram survives the accident and returns home, with Time in tow.
Over the course of the next three months, Parasuram faces many hurdles in his personal life, all witnessed by Time. He is bypassed in favour of a young IIM graduate for the post of General Manager, causing him to resign from his job in protest, only to change his mind when he realises that he needs money to treat Easwari's Parkinson's disease. Parasuram's elder daughter Veena, for whom he was finalising an alliance with his best friend Krishnamoorthy's son, elopes with her boyfriend, forcing him to fix the marriage between Krishnamoorthy's son and his younger daughter Gayathri, who accepts in order to save her father's reputation, despite wanting to study abroad. Parasuram further finds out that Arun is in a live-in relationship with an Indian American girl named Andrea, who introduces herself as Mahalakshmi. It is soon revealed that Easwari is aware about Veena's and Arun's relationships and manages to convince Parasuram to accept them, which he does on realising (with Time's help) that Krishnamoorthy's son had a relationship with another woman, who was pregnant with their child, and he and Krishnamoorthy were forcing her to undergo an abortion. He then cancels Gayathri's wedding and allows her to study further. He is promoted to managing director of his company and, now humbled, carries out his responsibilities with humility and is no longer dominating as before. He also spends more time with his family and enjoys with them.
At the end of the three month period, Parasuram, realising that his death is near, pledges his organs. In a final discussion with Time, Parasuram confesses that he had cheated others in the past in the name of job and love, and completely regrets what he had done. Time realises that Parasuram's reformation is genuine and offers to accompany him to heaven, which he accepts wholeheartedly. While he walks with Time to heaven, it is shown in parallel that he has died in his sleep.
During the credits, a politician comes across Time during a political rally. When the politician confronts Time for wearing a black shirt when all others are wearing white, Time informs him that his time is over. The screen then cuts to black.
Directed by Samuthirakani
Written by Sreevathson, Viji & Samuthirakani
Produced by Abirami Ramanathan & Nallammai Ramanathan
Starring Thambi Ramaiah, Samuthirakani
Cinematography N. K. Ekambaram
Edited by A. L. Ramesh
Music by C. Sathya
Production Abirami Media Works
Distributed by ZEE5
Release date 13 October 2021
Running time 99 minutes
Country India
Language Tamil