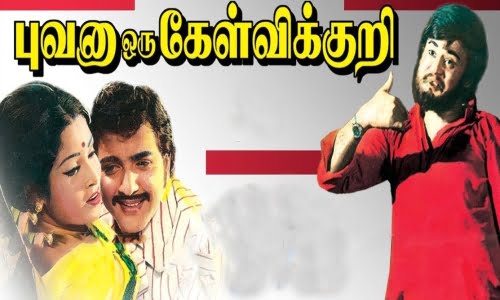 Bhuvana Oru Kelvi Kuri (Eng: Bhuvana Is a Question Mark) is a 1977 Indian Tamil-language drama film directed by S. P. Muthuraman and written by Panchu Arunachalam. It is based on the novel of the same name by Maharishi. The film stars Sivakumar, Rajinikanth and Sumithra. It focuses on two friends with conflicting characters and their conflicting lives.
Bhuvana Oru Kelvi Kuri was notable for casting Rajinikanth and Sivakumar as a hero and antihero respectively, contrary to the roles they played in earlier films. It was released on 9 September 1977. The film shocked audiences who were used to seeing Rajinikanth and Sivakumar in their usual roles; nevertheless, it was a commercial success, and won two Filmfare Awards: Best Tamil Film and Best Tamil Director for Muthuraman. The success of Bhuvana Oru Kelvi Kuri led to Rajinikanth playing more positive roles in films.
Nagaraj and Sampath are garment salesmen and roommates in Nagercoil. While Sampath is a straightforward person who believes in honesty, Nagaraj is a womaniser, in contrast to Sampath who believes in true love. Sampath's lover Raji, while fleeing from a rogue bull, dies due to an accident. A depressed Sampath attempts suicide, but Nagaraj stops him, and Sampath decides to stop selling garments, instead confining himself to remaining Nagaraj's assistant.
Aboard a train bound for Madras, Nagaraj and Sampath encounter Muthu, a temple trust clerk who has a suitcase full of cash. But Muthu dies en route of a heart attack and Nagaraj steals his suitcase, over Sampath's objections. Muthu's sister Bhuvana visits them at Nagercoil to enquire about the lost cash (which is all black money). Nagaraj denies knowing anything, but Bhuvana remains suspicious. He pretends to love her; Bhuvana falls for his lust and has sex with him.
Nagaraj uses some of the black money to open his own garment store. To make the rest of the money legitimate, he decides to marry Manohari, the daughter of a wealthy businessman. Bhuvana, pregnant by Nagaraj, refuses to abort the baby and wants Nagaraj to marry her, but he refuses. To save Bhuvana's honour and help his friend, Sampath marries Bhuvana but they only share a platonic relationship, while Nagaraj marries Manohari and his business flourishes.
Sampath wants to have a physical relationship with Bhuvana but she rejects him, saying he is like a god to her. Sampath raises Bhuvana's son as his own. Meanwhile, Nagarajan and Manohari yearn for a child as the former has now become impotent due to his excessive libido. Nagaraj demands that his son be given to him for adoption but Bhuvana refuses.
When the child becomes ill and needs an injection, Nagaraj enters into a bargain that he would give the medicine from his pharmacy, provided it is agreed that the child is given to him in adoption. But Sampath arrives on time to deliver the injection and the child is saved. A short while later, Sampath succumbs to cardiac arrest, the result of years of excessive smoking and drinking. Bhuvana prefers to live as his widow.
Directed by S. P. Muthuraman
Screenplay by Panchu Arunachalam
Based on Bhuvana Oru Kelvi Kuri by Maharishi
Produced by N. S. Mani
Starring Sivakumar, Rajinikanth, Sumithra
Cinematography Babu
Edited by R. Vittal
Music by Ilaiyaraaja
Production M. A. M. Films
Release date 9 September 1977
Running time 146 minutes
Country India
Language Tamil