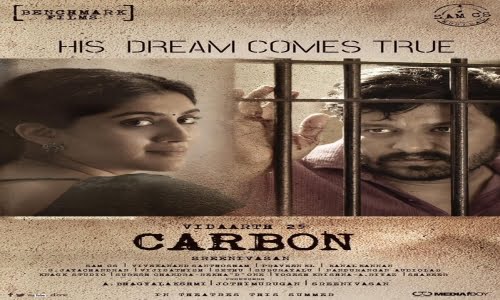 Carbon is a 2022 Indian Tamil-language action thriller film written and directed by R. Srinuvasan and produced by Benchmark Films. The film stars Vidharth and Dhanya Balakrishna in the lead roles.
This marks the 25th film for Vidharth. The film's music is composed by Sam C. S., with cinematography handled by Vivekanand Santhosham and editing done by Praveen K. L. The film released in theatres on 13 January 2022.
Benchmark Films signed on director R. Srinuvasan (who earlier directed Annadurai) to direct a film for their production house during the middle of 2020, with Vidharth to portray the leading role. The shooting of the film was started in August 2020 with the majority of the portions was shot in Chennai and the remaining portions in Tirukoilur.
Directed by R. Srinuvasan
Written by R. Srinuvasan
Produced by A. Bhagyalakshmi, M. Anandhajothi & R. Srinuvasan
Starring Vidharth, Dhanya Balakrishna
Cinematography Vivekanand Santhosham
Edited by Praveen K. L.
Music by Sam C. S.
Production Benchmark Films
Release date 13 January 2022
Running time 108 minutes
Country India
Language Tamil