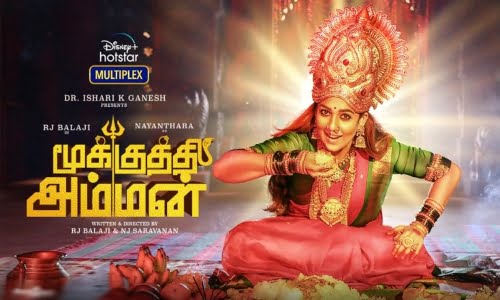 Mookuthi Amman (Eng: Nose-ring Goddess) is a 2020 Indian Tamil-language fantasy comedy film written and directed by RJ Balaji in his directorial debut. Co-directed by N. J. Saravanan, the film stars Nayanthara and Balaji, with Urvashi, Smruthi Venkat, Madhu Mailankody, Abinaya, Moulee and Ajay Ghosh in supporting roles. It revolves around a news anchor (Balaji) joining forces with the title character (Nayanthara) to expose a godman as fake. The film was released on Disney+ Hotstar on 14 November 2020, Diwali day. The movie was dubbed in Telugu as Ammoru Thalli and was released on the same day.
Engels Ramasamy is a Nagercoil-based news anchor working for Nanjil TV, a not so famous channel. His family consists of his single mother, paternal grandfather and three sisters. Engels was rejected by many girls for marriage as his family is poor and his father had abandoned them. One day, the family plans to leave for the Venkateswara Temple, Tirupati for the fourth time, only to cancel it as the youngest sister has got of age. They soon realise that they should go to their family deity Mookuthi Amman's temple to seek good luck. The temple is located in a hilly area called Vellimalai, 13.9 kilometres away from Nagercoil. So they head there but find the temple dilapidated. The family cleans the temple, and as per the custom, they stay for the night. During their sleep, Mookuthi Amman appears in human form at the temple, which Engels witnesses. He soon realises that only he can see her as he is a god-chosen child. She decides to improve the family's life, but in return, Engels must popularise her temple. After he complies, he decides to make his family members' dreams come true with the help of Amman, and both Engels and Amman head back to Nagercoil by bus. After reaching home, Engels asks the eldest of the three sisters what she wants. Engels asked her that question because she had made pongal, from milk flowing out of an ant-hill near the temple which Amman liked and the ant-hill made the temple famous. That Pongal later became the prasadam at the temple. The eldest sister asks for a day-off as she dropped out of school, she has been the house's homemaker and has never enjoyed life like the other family members. Amman also tells him that not all men appreciate what women do for them every day. After that, he guarantees her sister weekly Sunday holidays.
Bhagavathi Baba, a godman, enters the Amman temple and announces that he will construct a town named Panchavanam, which will destroy 148 villages around the temple in Vellimalai. This angers Engels, who has always tried to reveal his scams for the past six years. Amman decides to help Engels expose Baba. The next day, she makes herself visible to Engels' family members, who like her. They soon decide to take down Baba together. Once, Engels goes to a meeting with Baba but sees his father as a follower of Baba who lied to his family that he fled him. He narrates the story to his mother. When Amman makes a plan, and according to the plan, Engels' mother and sisters infiltrate Baba's group posing as Baba followers and start taking videos of him behaving badly in front of the other members without him noticing. Engels gets a job at Star Vijay and does a daily show with Baba, in which people phone him and look for solutions to their issues. During the first episode, a man phones Baba to convince his father to take his kidney at the hospital since the man married a girl of another religion and as a result, does not want his kidney. Baba then tells the father that he has done the right thing in not accepting his kidney, thus proving that he is a bigot. Later on, Engels proves to the public that Baba's Panchavanam project is against the laws and that Baba does not even know a line of the Bhagavad Gita.
The next day, Engels reveals even more dark truths about Baba. Baba then challenges Engels to answer three questions at the groundbreaking ceremony of Panchavanam, and if he answers those questions, he will not launch Panchavanam. After the episode's filming, Baba learns of Engels' family's plans to stop him. Engels immediately tells the others to escape Baba's class. But during the escape, their car runs out of fuel, and Baba's henchmen catch them. Engels calls for Amman, and she kills the henchmen using her powers, allowing the family to reach Panchavanam's groundbreaking ceremony in time. There, Baba reveals that the extraordinary events that made the Amman temple famous were all staged by Engels. When asked why he staged the events, Amman makes herself visible to everyone and arrives on the stage. She tells everyone that there is no need for men like Baba to protect God, and everyone should pray to God out of faith and not fear, after which she disappears into dust. After her speech, Baba becomes a public enemy. The next day, Amman spots Engels travelling in a bike and asks him for his final wish before returning to her abode. He replies that he is grateful for what he has, and Amman vanishes into dust. In a voiceover, Engels informs the viewers, not to be greedy when wishing to God, He also says that God will surely come because you too are a God-chosen child.
Directed by RJ Balaji & N. J. Saravanan
Produced by Ishari K. Ganesh
Written by RJ Balaji
Starring Nayanthara, RJ Balaji
Narrated by RJ Balaji
Music by Girishh G.
Cinematography Dinesh Krishnan
Edited by R. K. Selva
Production Vels Film International
Distributed by Disney+ Hotstar
Release date 14 November 2020
Running time 134 minutes
Country India
Language Tamil