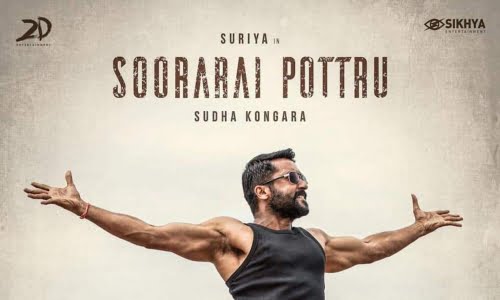 Soorarai Pottru (Eng: Hail the brave) is a 2020 Indian Tamil-language drama film directed by Sudha Kongara and produced by Suriya and Guneet Monga, under their respective banners 2D Entertainment and Sikhya Entertainment. The story was conceptualised and written by Kongara. The screenplay was written by Kongara and Shalini Ushadevi, with an additional screenplay by Aalif Surti and Ganesha, and Vijay Kumar writing the dialogue. The film stars Suriya, Paresh Rawal, and Aparna Balamurali with Urvashi, Mohan Babu, and Karunas amongst others in supporting roles.
The film was partly inspired by events from the life of Simplifly Deccan founder G. R. Gopinath. While the project was announced in mid-2018, under the working title Suriya 38, the official title Soorarai Pottru was announced on 13 April 2019. Principal photography began the very same month and ended that September. Filming took place across Madurai, Chennai, and Chandigarh. The film features music composed by G. V. Prakash Kumar, while cinematography and editing were handled by Niketh Bommireddy and Sathish Suriya respectively.
Nedumaaran, fondly called 'Maara', is a former Indian air force captain who dreams of starting a low-cost carrier airline. He idolizes Paresh Goswami, the owner of Jaz Airlines who achieved great success in the airline industry through hard work. One day, Maara is visited by Sundari, a.k.a Bommi who's family is looking for a suitable groom for her. Maara is impressed by Bommi's nature and agrees to marry her. He tells her that he grew up as a rebellious boy, much to his father's dismay, and had a strained relationship with him. Later, he joined the Air Force where he excelled. He was often reprimanded by his superior, M. Naidu due to his rebellious nature. When his father was on his deathbed, Maara tried to book a flight home but found that he did not have enough money. He begged for someone to give their ticket to him but in vain and by the time he reached home he was too late. This launched his ambition for starting a low-cost carrier. Bommi, however, feels that he would not give much attention to her post-marriage and rejects him.
Maara visits Naidu to ask for the ex-serviceman loan so that he can start his airline but Naidu refuses. With no other option, Maara travels on the same flight as Paresh Goswami. He proposes they work together and start a low-cost carrier. Paresh however, believes that the poor should not travel with the rich humiliates Maara. Prakash Babu, the head of a venture capitalist firm overhears Maara's conversation with Paresh and asks him to explain his business plan to the board members of the firm. Meanwhile, Maara and Bommi start meeting each other frequently and eventually get married. He plans to lease Boeing aircraft from PlaneAm who have agreed to lease them at low prices. After his funds get sanctioned, Maara tries to meet the DGCA officials to acquire the license but they fail to give him any importance. Maara meets with the President of India and requests his help in getting the license.
Irked by his progress, Paresh uses his power to pass a law that requires Boeing to submit its airline blueprints to fly in the Indian airspace. This leads to PlaneAm canceling the lease and demanding a penalty fee. Maara requests Prakash to loan him money to pay the penalty but he is denied. Prakash reveals he was working with Paresh and had conspired with him to bring Maara down. He also reveals the Boeing planes were acquired by Jaz airlines instead. Furious, Maara storms into Paresh's office but is tackled by the guards. He becomes short-tempered and often quarrels with Bommi but later apologizes. He realizes that he can fly smaller aircraft and strikes a deal with a Turboprop aircraft manufacturer. Paresh, fearing his rise can affect his business decides to take matters into his own hands. Meanwhile, Maara's entire village comes to help him financially by donating as much money as they can. He plans to commence flight operations from abandoned airstrips since the major airports come under Paresh's control. He names his airline 'Deccan Air' and sells tickets at railway stations and petrol pumps hoping to get customers. Retired Air Force pilots are hired to fly the planes and Bommi is made in-charge of the in-flight catering.
On the day of the delivery of the aircraft, Paresh uses his influence to restrict the flight's landing at Chennai, forcing the flight to crash land at the Air Force base due to lack of fuel. Maara is called by Naidu to explain for the emergency landing and lets him off with a fine after hearing about his ambitions. On the day of the maiden voyage, the flight catches fire and is forced to cancel take-off. It is revealed that Paresh had bribed the captain to sabotage the flight. The captain owns up to his mistakes in front of the inquiry. A prominent businessman offers to buy 'Deccan Air' but Maara refuses citing differences in their vision. Paresh starts a smear campaign against 'Deccan Air' in the hopes of ending Maara's dreams but Maara ensures everyone that his flights are safe and cost-effective. On the day of the start of operations, however, no one turns up for one of the flights. Just when Maara is about is about to give up he is informed that a technical glitch occurred which didn't book the tickets for that particular flight but all other flights were completely booked. With tears of happiness in his eyes, Maara watches the other flights touch down. Paresh accepts defeat as 'Deccan Air' becomes a success.
Directed by Sudha Kongara
Produced by Suriya, Guneet Monga
Screenplay by Sudha Kongara, Shalini Ushadevi & Vijay Kumar
Story by Sudha Kongara
Based on Simply Fly: A Deccan Odyssey by G. R. Gopinath
Starring Suriya, Paresh Rawal & Aparna Balamurali
Narrated by R. Madhavan
Music by G. V. Prakash Kumar
Cinematography Niketh Bommireddy
Edited by Sathish Suriya
Production 2D Entertainment & Sikhya Entertainment
Distributed by Amazon Prime Video
Release date 12 November 2020
Running time 149 minutes
Country India
Language Tamil