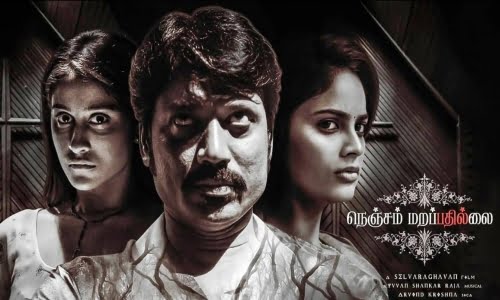 Nenjam Marappathillai (Eng: The heart never forgets) is a 2021 Indian Tamil-language horror film[a] written and directed by Selvaraghavan. Jointly produced by Escape Artists Motion Pictures and GLO Studios, the film stars S. J. Suryah, Nandita Swetha and Regina Cassandra. Yuvan Shankar Raja composed the film score and soundtrack, with cinematography and editing were handled respectively by Arvind Krishna and Prasanna GK.
Mariam is a selfless orphan raised in a Christian orphanage by nuns. She gets an offer to look after a child in an affluent household in a small village and accepts the offer, so that she can contribute her share of money to the orphanage's betterment. She reaches the household and finds a little boy Rishi and his wealthy parents Ramsay and Swetha. Ramsay, formerly Ramaswamy, was an orphan who started working in the cotton mill of his current father-in-law. He had risen step by step, often through nefarious means and finally made Swetha, the only heir of the billionaire fall in love with him using drugs. He married Swetha and currently manages the new cotton mill, albeit his father-in-law still having strict control of the business.
Rishi takes instant liking to Mariam and her tenderness with the boy contrasts with the coldness she receives from Ramsay and his wife. Along with them live four male servants including a security guard and the personal assistant/cook. Though uncomfortable in the beginning, Mariam learns to live there due to her financial commitments to the orphanage. Ramsay is smitten by Mariam's beauty and lusts after her. He tries to misbehave with her on multiple occasions and Mariam's attempts to complain to Swetha about this goes in vain.
One night, Ramsay cleverly plots a scheme and sends Swetha out of town for a board meeting and sexually assaults Mariam along with the male servants. He asks them to kill Mariam and dispose off her body. Soon, Mariam realises that she has come back to the household as a spirit and starts haunting them. Rishi is able to see her and numerous paranormal activities start happening in the household simultaneously. Out of fear, one of the male servant accidentally blurts out the truth about the murder to Swetha, who is filled with rage at Ramsay, but asks everyone to dispose of the evidences, burn Mariam's buried body and keep the incident a secret. As they proceed to do so, each of the servants is killed one after the other by Mariam.
Left with no option, Swetha herself exhumes and successfully burns Mariam's body. Mariam's spirit is destroyed and reaches god. God possesses Shweta instead and kills the cook, who was the last of the servants left and proceeds towards Ramsay who puts up a fight. "Swetha" submerges Ramsay and leaves. Seemingly unaffected, Ramsay returns to the house to see Swetha/Mariam and Rishi happily reunited. He runs into Swetha/Mariam, only to realise that he is dead and has become a ghost.
Directed by Selvaraghavan
Written by Selvaraghavan
Produced by P. Madan
Starring S. J. Suryah, Nandita Swetha, Regina Cassandra
Cinematography Arvind Krishna
Edited by Prasanna GK
Music by Yuvan Shankar Raja
Production Escape Artists Motion Pictures & GLO Studios
Distributed by Rockfort Entertainment
Release date 5 March 2021
Running time 142 minutes
Country India
Language Tamil