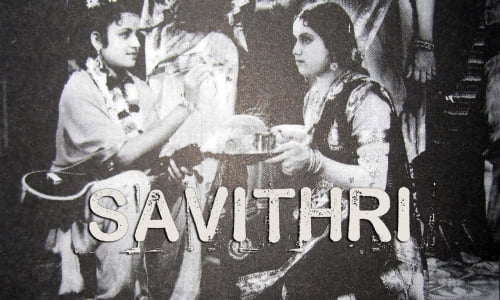 Savithiri is a 1941 Tamil language film directed by Y. V. Rao. The film featured Y. V. Rao, Shanta Apte, V. A. Chellappa and M. S. Subbulakshmi in the lead roles.
Savithiri is a beautiful and chaste princess. Princes in the neighbouring Kingdoms are intimidated by her beauty and purity and no one wants to marry her.
Savithiri's father King Aswapati tells her to go out and find her own husband. She finds a young man, Sathyavan, who is the son of a blind king now living in the forest in exile. Savithiri brings the young man to her Kingdom. In the meantime, Narada tells Asvapati that Savithiri has made a bad choice because Sathyavan is destined to die in one year.
However, Savithiri insists on marrying Sathyavan. The king finally agrees and they are married.
Savithiri goes to live with her husband in the forest. She takes to a life of austerities. On the day Sathyavan is to die, she accompanies him into the forest to cut firewood. While he was cutting a tree, Sathyavan collapses. Yama comes and takes his soul. Savithiri follows Yama but Yama tells her not to follow him. But she insists and talks about Dharma with Yama.
Finally, Yama is impressed by her talks and tells her to ask any boon except the life of Sathyavan. First she asks for eyesight to her father-in-law and the restoration of his Kingdom. Then she asks for an heir to her father's Kingdom and finally she asks for 100 children to herself.
This places Yama in a dilemma. If she is to have 100 children, then Sathiyavan must live to give her those children. Fully impressed by this virtuous woman's arguments, Yama returns the life of Sathyawan.
Directed by Y. V. Rao
Screenplay by T. C. Vadivelu Nayakar
Based on Savitri and Satyavan a story from Mahabharata
Starring Shanta Apte, M. S. Subbulakshmi, Y. V. Rao, V. A. Chellappa, K. Sarangkapani
Music by M. Rajagopala Sharma & Kamal Das Gupta
Cinematography Yusuf Mulji
Edited by N. M. Shankar
Production New Theatres Studio
Distributed by Rayal Talkie Distributors of Madura
Release date 5 September 1941 (India)
Country India
Language Tamil