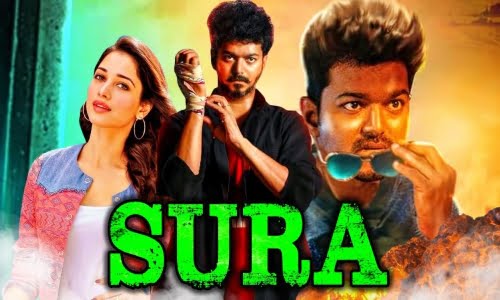 Sura (Eng: Shark) is a 2010 Indian Tamil-language action film written and directed by S. P. Rajkumar, starring Vijay in the lead role along with Tamannaah, Vadivelu, and Dev Gill in supporting roles. The film, produced by Sangili Murugan and distributed by Sun Pictures features film's soundtrack and score was composed by Mani Sharma. Cinematography was handled by M. S. Prabhu and N. K. Ekambaram respectively and editing was handled by Don Max. The film was the 50th film of Vijay.
The story revolves around a fisherman who fights against a cruel minister in order to save the lands which is used to build homes for his fishermen hamlet. The rest of the film is about how Sura manages to build lands for his hamlet and destroy the plans of minister. The film, which commenced production on November 2009 in Kerala, was released worldwide on 30 April 2010. The film fared well in overseas box office has collected $897,597 but underperformed domestically. Producer Sangili Murugan reported to the media that the film Sura recovered its budget through other language satellite rights.
Sura (Vijay) was born and brought up in Yaazh Nagar, a fisherman hamlet in coastal Tamil Nadu, in the company of his friend Ambar La alias Umbrella (Vadivelu). Meanwhile, he comes across young bubbly Poornima (Tamannaah), who chooses to end her life, unable to cope up with the death of her pet dog. Poornima becomes attracted towards him thanks to his good deeds, and they start romancing. When things seem to go well, trouble enters in the form of a greedy and corrupt minister Samuthira Raja alias Sundaram (Dev Gill). He wants to usurp the land where these fishermen live, but his attempts to take away the wealth are resisted by Sura. They cross-fight each other. Sundaram hatches a conspiracy to bump off Sura with the help of his ministerial post and authority and sues him. Sura takes them on single-handedly and destroys his bad intention and helps his town fishermen get their own houses as he wished. However, Sundaram is plotting revenge against him for taking his money and because he lost that land in which he was about to build a fair. He plants a bomb, and he starts running when he sees Sundaram's henchmen. Sundaram caught him and said he planted a bomb in his village. Sura said the chief guest is Sundaram's wife (Yuvarani), much to Sundaram's shock. Sura deactivates the bomb and kills Sundaram.
Directed by S. P. Rajkumar
Produced by Sangili Murugan
Written by S. P. Rajkumar
Starring Vijay, Tamannaah, Vadivelu, Dev Gill
Music by Mani Sharma
Cinematography M. S. Prabhu & N. K. Ekambaram
Edited by Don Max
Production Murugan Cine Arts
Release date 30 April 2010
Running time 170 minutes
Country India
Language Tamil