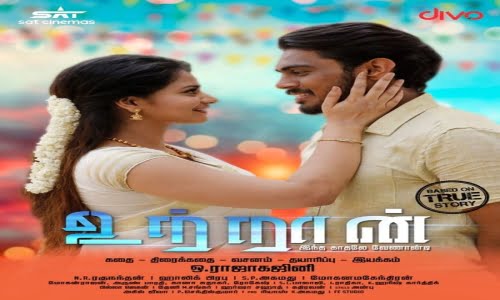 Utraan is a 2020 Tamil language film directed by Rajaghajini and stars newcomer Roshan Udhayakumar, newcomer Heroshini Kamal, and Priyanka Nair (who returns to Tamil cinema after a long hiatus) in the lead roles. P. Ravishankar, Madhusudhan Rao, and Vela Ramamoorthy also play pivotal roles in this film.
Heroshini Kamal, known for her mimicry, made her Tamil debut with this film. She plays the daughter of a police officer. Madhusudhan Rao and Vela Ramamoorthy play negative roles while P. Ravishankar plays an important role. Priyanka Nair, who is also known for her role in Veyil, will be playing a college lecturer in the film. Singer Gaana Sudhakar also appears in a supporting role in the film.
The film revolves around a love story that went wrong due to a screw from a bike. The relationship of a college-going couple turns to shambles when the girl's father, a cop, nabs her lover in a fabricated case. Utraan begins with two college students, a guy and a girl, falling in love at a men's college. The girl's father, a cop, tries to separate them with the help of a dreaded goon. How they protect their relationship is the rest of the story.
Directed by O. Rajaghajini
Produced by O. Rajaghajini
Written by O. Rajaghajini
Starring Roshan Udayakumar, Heroshini Komali, Priyanka Nair
Music by N. R. Raghunanthan
Cinematography Holic Prabhu
Edited by S. P. Ahmed
Production Sat Cinemas
Release date 31 January 2020
Country India
Language Tamil