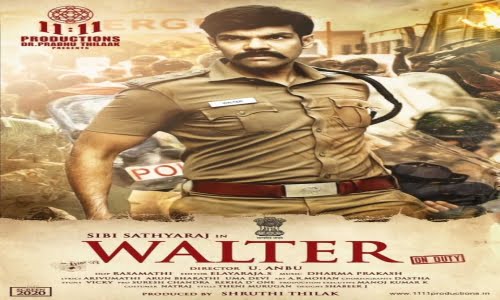 Walter is a 2020 Indian Tamil action crime thriller film written and directed by U. Anbarasan and produced by Shruthi Thilak. The film stars Sibi Sathyaraj, Nataraj, Samuthirakani, Riythvika, Sanam Shetty, Munishkanth and Shirin Kanchwala. The principal photography of the film commenced in June 2019, and the film was released on the 13 March 2020.
Walter is a cat-and-mouse cop story between a sincere cop and a well-reputed person in the society. A few minutes into the film, Sibiraj, who plays the titular role as a cop, gets the mandatory, yet routine hero introduction scene when a protest turns violent in Kumbakonam. Later, he takes up the case of a couple who seeks his help to find their newborn baby. Walter suspects foul play when he come across similar cases, and sets out to investigate the crimes, accompanied by his subordinate (Charlie).
Meanwhile, the ego clash between Eswara Moorthy (Bava Chelladurai), a leading politician in the town, and Balu (Samuthirakani), who is considered to be his successor, intensifies. Their ego clash brings Balu's friend Arjun (Natty), who is linked to the kids who have gone missing, into the picture. How Walter faces several odds in his attempt to nab a criminal syndicate forms the rest of the story.
Directed by U. Anbarasan
Produced by Shruthi Thilak
Written by U. Anbarasan
Screenplay by U. Anbarasan
Starring Sibi Sathyaraj, Nataraj, Samuthirakani, Shirin Kanchwala
Music by Dharmaprakash
Cinematography Rasamadhi
Edited by Elayaraja
Production 11:11 Productions (P) Ltd
Release date 13 March 2020
Country India
Language Tamil