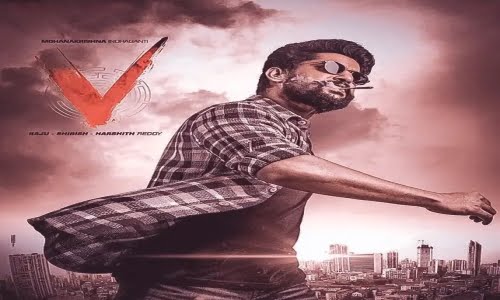 V is a 2020 Indian Telugu-language action thriller film written and directed by Mohana Krishna Indraganti, produced by Dil Raju under the banner of Sri Venkateswara Creations. The film stars Nani, Sudheer Babu, Nivetha Thomas and Aditi Rao Hydari along with Vennela Kishore and Tanikella Bharani in supporting roles. The film's score is composed by S. Thaman, with the soundtrack album being composed by Amit Trivedi, while cinematography is handled by P. G. Vinda and editing done by Marthand K. Venkatesh. It is Nani's 25th film as a lead actor, in which he plays an antagonist for the first time. V released on Amazon Prime Video on 5 September 2020. The film is scheduled for a theatrical re-release on 1 January 2021.
DCP Aditya, a celebrated cop, handles a communal riot in Hyderabad. He is awarded a gallantry medal a year later, for solving various cases. The following night, Prasad, an Inspector, is grotesquely murdered by an unnamed killer who leaves a note challenging Aditya to catch him. Aditya suspects Apoorva, an aspiring crime novelist who he met the previous night, to have some link with the killer as she was in contact with Prasad. However, Apoorva only met Prasad for her research, during which she overhears Prasad telling a realtor named Mallik that their lives are under threat. Meanwhile, the killer calls Aditya, challenging him to prevent four more murders, failing which he shall give up his medals and resign. Aditya accepts the challenge.
On deducing that the killer's name starts with "V", Aditya arrests a person Vicky, based on the history between him and Prasad. Vicky tells Aditya about a man who enquired about Prasad and Mallik. On knowing Mallik could be the next target, Aditya rushes to save him, only to see that he is already killed. Killer this time leaves a clue hinting next location of the target. Aditya and Apoorva crack the clue and Aditya heads to Mumbai. There, the killer escapes narrowly, upon killing his target. He later sends Aditya an image of Aditya's school days, which makes Aditya suspect Vishnu, his fellow schoolmate, and a popular student-athlete. He learns from his school in Vizag that Vishnu is an ex-Army soldier with an impeccable record of eliminating terrorists. Aditya visits a colleague of Vishnu who tells their past.
Vishnu loved and married Saheba, who he met when he was off-duty. However, when Saheba is pregnant, Vishnu unable to get leave to visit her was forced to attend his duty in Kashmir. When Vishnu and his colleague are off to a mission, the bus they travel is bombed, falling into an adjacent river. Vishnu is last seen being washed away. Saheba too is killed in the communal riots which Aditya handled but there is no record of Saheba's death.
Confused Aditya upon investigation, learns that Saheba was last seen going to a jewelry shop to buy a gift for Vishnu who was supposed to return soon. Aditya tries to retrieve the shop's CCTV footage, but it's missing. Aditya suspects the manager and asks his team to follow him. And they trace out a lady who reveals them the conspiracy behind the riot. The lady ran a Girls hostel but she would pimp the girls, often by force. One night, a girl films her friend being raped and takes the video to a local don whom she believes would help him. But that don finds an opportunity to blackmail the Home Minister, whose son was among the rapists. The riots were conspired by the minister to kill the don and retrieve the video.
Aditya, who learns that people who are involved in the conspiracy are being killed, fails to protect the fourth target as well. The final target of the killer, the home minister's son, Ranjith is in Thailand. Aditya travels to Thailand to save Ranjith, but Ranjith is beheaded by Vishnu who leaves a note reading he shall meet soon. Later, Aditya resigns from his job accepting his defeat. The police save their face by blaming and killing an innocent pickpocketer named Vamsi and the case is closed.
Days later, Vishnu and Aditya meet where Aditya reveals that he indeed helped Vishnu by killing the guards of Ranjith, thus isolating him to be killed by Vishnu. He does so because his team is infiltrated on instruction to kill both Vishnu and Aditya. Vishnu tells Aditya that Saheba on the day of riots tried to save the girl with the video, only to be murdered by the goons. Vishnu, who was luckily saved after the accident, receives the video recorded and e-mailed by Saheba minutes before she was killed. He then decides to avenge her death. Vishnu initially believed that Aditya was also part of the conspiracy. But upon being impressed by his integrity, Vishnu hands over the video to Aditya, to expose the criminals. Aditya later releases it to the press and regains his reputation.
Days later, Apoorva writes a novel about the events, titled Saheba. Vishnu who receives a copy sees that it has been dedicated to "V".
Directed by Mohana Krishna Indraganti
Produced by Dil Raju, Sirish, Lakshman & Harshith Reddy
Written by Mohan Krishna Indraganti
Starring Nani, Sudheer Babu, Nivetha Thomas, Aditi Rao Hydari
Music by S. Thaman & Amit Trivedi
Cinematography P. G. Vinda
Edited by Marthand K. Venkatesh
Production Sri Venkateswara Creations
Distributed by Amazon Prime Video
Release date 5 September 2020
Running time 140 minutes
Country India
Language Tamil