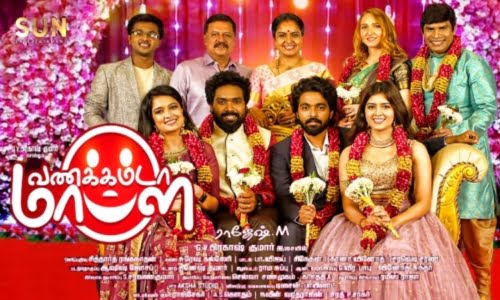 Vanakkam Da Mappilei (Eng: Greetings Friend) is a 2021 Indian Tamil-language romantic comedy television film written and directed by M. Rajesh. The film stars G. V. Prakash Kumar, Amritha Aiyer and Anandaraj in the lead roles. Vanakkam Da Mappilei was streamed via Sun NXT on 16 April 2021 and opened to mixed reviews from critics.
Aravind (GV Prakash) and Swaminathan (Daniel Annie Pope) are childhood friends and they vow to get married on the same stage. Aravind is employed in a ship while Swami owns a travel agency. Swami's wedding is arranged with his cousin but Aravind requests Swami to postpone the wedding for 6 months, so that Aravind could also find a suitable bride and as per plan both the couples could marry on the same stage. However, none of the girls seem to be interested in marrying Aravind due to his job nature as he has to be in ship for 6 months in a year. One day, Aravind meets Thulasi (Amritha Iyer) and falls in love with her. After a few initial hesitations, Thulasi also reciprocates.
Ramachandran (Anand Raj) is a single parent who raised Thulasi following his wife's early demise. Thulasi is also very fond her father and she wants him to come with her after wedding for which he does not agree. Thulasi introduces Aravind to Ramachandran and both share a good rapport. However, Ramachandran comes up with a condition to Aravind for getting Thulasi married to him. Ramachandran wants Aravind to find a suitable bride for him first, so that he can spend rest of his life happily. Now, Aravind and Swami start searching for a bride. They decide to get their yoga master Maya (Reshma) married to Ramachandran which does not work out.
Aravind sends Ramachandran to a spiritual center, where he meets a foreigner and falls in love and eventually they both get married. Aravind feels happy that his route is clear, however, Thulasi does not agree to Aravind's plan of conducting their wedding along with Swami's on the same stage. This angers Aravind and they both breakup. Swami suggests Aravind to marry his another cousin for which he agrees. Aravind and Swami visit Swami's uncle's house with the marriage proposal, however they are shocked to see that both Swami's cousins are already married to some other grooms. Heartbroken Swami decides to become a saint and starts a journey towards Varanasi.
But Aravind gets patched up with Thulasi and their pre-wedding reception is arranged for which Swami goes. There he finds Preeti (Soundarya) who was his ex-lover during college days. Swami patches up again with Preeti and their wedding is arranged. As per plan, Aravind and Swami's wedding happen on the same stage.
Written by M. Rajesh
Directed by M. Rajesh
Starring G. V. Prakash Kumar, Amritha Aiyer, Anandaraj
Music by G. V. Prakash Kumar
Language Tamil
Producer Sun TV Network
Cinematography Siddharth Ranganathan
Editor Ashish Joseph
Running time 162 minutes
Production Sun Entertainment
Distributor Sun NXT