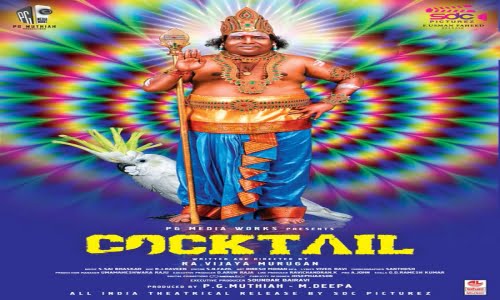 Cocktail is a 2020 Indian Tamil-language comedy film directed by debutante Ra. Vijaya Murugan, and starring Yogi Babu, Rashmi Gopinath, Mithun Maheswaran, KPY Bala, and Kawin. The film was released on 10 July 2020. The film was initially scheduled to have a theatrical release in March 2020, but due to the COVID-19 pandemic, the makers opted for an OTT release directly on ZEE5 on 10 July 2020. The film features a cockatiel in an important role and is the first Indian film to feature the bird. Music was composed by Sai Bhaskar.
Four men end up with a dead girl in their flat and when they try to dispose of the body they end up getting mixed up in the smuggling of a precious idol.
Cocktail has four friends getting together one night of binge drinking. They have a reason to celebrate, as one of them, Anbu (Mithun Maheswaran) is about to be engaged to his girlfriend Tamizhini (Meghana Ellen) who happens to be the daughter of a police officer (Sayaji Shinde). But they wake up the next morning with no recollection of what had happened during the previous night. And they realise that there is a dead girl in their flat. So, they decide to dispose of the dead girls body, but somehow they get mixed up with an idol smuggling racket (headed by Mime Gopi). With the cop smelling something fishy, can they get out of the mess unharmed?
Directed by Ra.Vijaya Murugan
Produced by P. G. Muthiah & M Deepa
Starring Yogi Babu, Rashmi Gopinath, Mithun Maheswaran, KPY Bala, Kawin
Music by Sai Bhaskar
Cinematography R. J. Raveen
Edited by S.N. Fazil
Production P G Media Works
Distributed by ZEE5
Release date 10 July 2020
Running time 132 minutes
Country India
Language Tamil