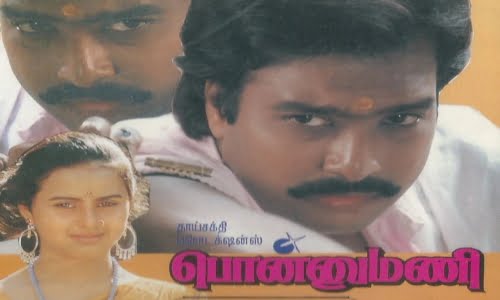 Ponnumani is a 1993 Tamil-language film, directed by R. V. Udayakumar, starring Karthik, Soundarya (in her first Tamil movie) and Sivakumar. It was a huge commercial success at the box office and received positive recognition turned to be a blockbuster. The movie completed a 100-day run in Chennai, Kovai, Madurai. It was the second victory for the R. V. Udayakumar-Karthik duo.
The film was entirely shot at Sethumadai near the town of Pollachi. The music was composed by Ilaiyaraja and lyrics were written by R. V. Udayakumar.
Soundarya and Karthik are sweethearts who spend their childhood together in a village. Soundarya goes off to pursue an education, but she and Karthik remain devoted to each other. Sivakumar, who dotes on Karthik wants to see them happily married.
It is decided that they marry once Soundarya's exams are over. Karthik, who has been waiting all his life for this moment sets off eagerly to receive Soundarya at the station. He is shocked to find her in a mentally unbalanced state.
Later on he learns that Soundarya has been brutally molested by Uday Prakash and is pregnant. Though overwhelmed with grief, he tries to arrange Soundarya's marriage with the rapist. When the latter shows no remorse for his act, and tries to kill Soundarya, Karthik kills him and is sentenced for 5 years. He is reunited with childlike Soundarya and her daughter.
Directed by R. V. Udayakumar
Produced by J. B. Rajaravi, Jegadeesh
Written by Gokula Krishnan (dialogues)
Screenplay by R. V. Udayakumar
Story by Sujatha Udayakumar
Starring Karthik, Soundarya, Sivakumar
Music by Ilaiyaraaja & Karthik Raja
Cinematography Abdul Rahman
Edited by B. S. Nagaraj
Production Thaai Sakthi Productions
Distributed by Thaai Sakthi Productions
Release date 16 April 1993
Running time 149 minutes
Country India
Language Tamil