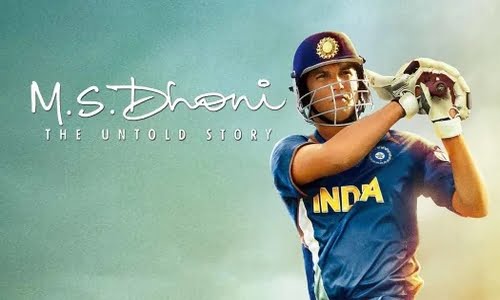 M.S. Dhoni: The Untold Story is a 2016 Indian Hindi-language biographical sports drama film written and directed by Neeraj Pandey. It is based on the life of former Test, ODI and T20I captain of the Indian national cricket team, Mahendra Singh Dhoni. The film stars the late Sushant Singh Rajput as Dhoni, along with Disha Patani, Kiara Advani, and Anupam Kher. The film chronicles the life of Dhoni from a young age through a series of life events.
In the pre-credits sequence there is a scene of the 2011 Cricket World Cup Final. MS Dhoni, India's captain, walks out to bat after Virat Kohli's wicket.
The film begins in Ranchi, 7 July 1981. At the hospital maternity unit, Paan Singh Dhoni is confused whether he has got a girl or boy. He later names his baby boy Mahendra 'Mahi' Singh Dhoni. Paan Singh is a pump operator who waters the practice ground. Fourteen years later, Mahi is spotted by a cricket coach while goalkeeping in a football game. He invites him to try out for the school cricket team as a wicketkeeper and selects him after being impressed. Mahi improves his batting and becomes a regular member of the team.
Three years later, a grown up Mahi helps win an inter-school cricket match. After achieving much fame, Mahi is selected for the Ranji Trophy but his draft notice is held up due to which he is late in reaching Kolkata despite his friends' help. But Mahi does not give up and, to please his father, he joins the Kharagpur Station as a ticket collector. Years later, Mahi's sister Jayanti is married to his friend Gautam Gupta.
After some time, Mahi is depressed with his job. With the insistence of his manager, Mahi decides to play cricket alongside his work, and after his day-shifts he goes to practice cricket. He participates in different tournaments and as a result he gets selected for the Railways. After a good performance, he tries-out for the India national under-19 cricket team selections. Bihar loses to Punjab where Yuvraj Singh scores 301 and Mahi does not succeed though he is selected for the Duleep Trophy.
Mahi leaves his job and admits to his father that cricket is his only ambition and he wants to become a professional cricketer. He works hard and is selected in the national team and makes his debut. He meets and befriends Priyanka Jha, an office consultant, and scores a century after meeting her. She buys a watch for him as a Valentine's Day gift but dies in a truck accident on her way. Mahi again goes into depression and has bad form in the 2007 Cricket World Cup. As captain of the national side, he wins the T-20 World Cup, and leads India to the number one ranking in Test matches.
In 2010, Mahi arrives at a hotel. Sakshi Singh Rawat, a hotel official fails to recognize him and later apologizes to him. They soon start dating and Mahi eventually proposes marriage to her after she mentions buying him a Valentine's Day's gift which he refuses. They marry and Mahi begins training for the 2011 World Cup. He eventually develops the team with new players. The film returns to the final where Mahi eases the pressure with a crucial innings. With 4 runs required, Mahi hits a six and India wins the final. His family, friends and coaches watching the match cry happy tears.
After the credits, the real MS Dhoni walks by the boundaries.
Directed by Neeraj Pandey
Written by Neeraj Pandey & Dilip Jha
Produced by Arun Pandey & Fox Star Studios
Starring Sushant Singh Rajput, Disha Patani, Kiara Advani, Anupam Kher, Bhumika Chawla, Kranti Prakash Jha, Alok Pandey
Cinematography Santosh Thundiyil
Edited by Shree Narayan Singh
Music by Sanjoy Chowdhury Amaal Mallik
Production Fox Star Studios, Inspired Entertainment & Friday FilmWorks
Distributed by Fox Star Studios
Release date 30 September 2016
Running time 190 minutes
Country India
Language Tamil