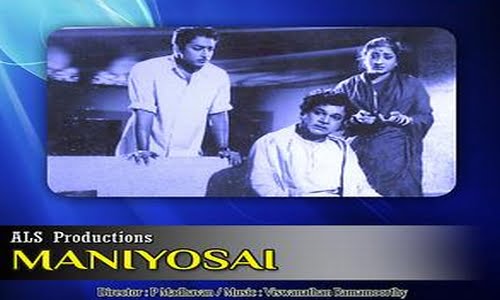 Mani Osai (Eng: 'Bell Sound') is a 1963 Tamil-language drama film, which was directed by P. Madhavan on his directorial debut. The film was produced by A. L. Srinivasan under the banner of ALS Productions and written by Pasumani. The film was inspired by Victor Hugo's French novel, The Hunchback of Notre Dame and stars Kalyan Kumar, M. R. Radha, R. Muthuraman, C. R. Vijayakumari, Chittoor V. Nagaiah, Nagesh, Pushpalatha and Kumari Rukmini. Viswanathan-Ramamoorthy composed the music for the film. Cinematography was done by M Karnan and editing by R Devarajan.
Arunagiri's father abandons him as he is born with a hunchback. He runs errands for everyone, including for his parents. But, his father never reveals the truth, until an unexpected thing happens.
He tells his wife (Kumari Rukmini) that the baby was born dead. The man has another son (R. Muthuraman) who leads a rich and lazy life, often getting into all sorts of trouble. He falls in love with his cousin (C. R. Vijayakumari), who is very close to the hunchback, treating him like her own brother. The hunchback becomes a hero who sacrifices everything for others and frequently taking the blame for others' wrongdoing. He finally restores sight to the hero and dies. Only after the hunchback's death does his father tell the world that he was his firstborn son.
Directed by P. Madhavan
Produced by A. L. Srinivasan
Written by Pasumani
Starring Kalyan Kumar, M. R. Radha, R. Muthuraman, C. R. Vijayakumari, Kumari Rukmini
Music by Viswanathan-Ramamoorthy
Cinematography M. Karnan
Edited by R. Devarajan
Production Barani Pictures
Distributed by ALS Productions
Release date 14 April 1963
Running time 168 Mins
Country India
Language Tamil