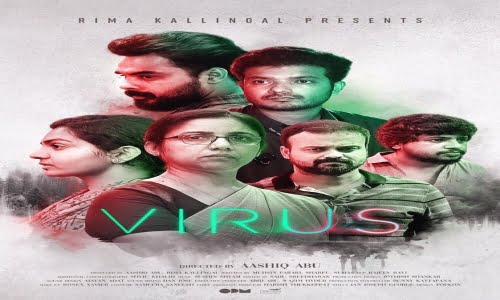 Virus is a 2019 Malayalam-language Medical Thriller film co-produced and directed by Aashiq Abu set against the backdrop of the 2018 Nipah virus outbreak in Kerala. The film was written by Muhsin Parari, Sharfu, and Suhas. It stars an ensemble cast that includes Kunchacko Boban, Tovino Thomas, Asif Ali, Parvathy Thiruvothu, Rahman, Indrajith Sukumaran, Indrans, Jinu Joseph, Sreenath Bhasi, Dileesh Pothan, Rima Kallingal, Madonna Sebastian, Ramya Nambeeshan, Joju George, Soubin Shahir and Revathi.
Principal photography took place from January to February 2019 in a single schedule shot extensively in Government Medical College, Kozhikode. The film was released worldwide on 7 June 2019, receiving critical acclaim and was a major box office success.
A man named Zakariya Mohammed is infected and brought to the Government Medical College, Kozhikode, where he suffers from the symptoms of an unknown virus and, after a few hours, dies. Geetha, who was taking Zakariya's CT scan, got infected by the virus. As nurses and doctors checked her blood pressure, the scale was going up and down which led the doctors there worried and confused. A nurse Akhila who treated Zakariya gets affected too. Slowly more cases are identified in the surrounding areas. Dr. Salim (a neurologist) while checking on Zakariya's father, Razak, notices symptoms related to poisoning and Japanese encephalitis and other such infections on Razak. Dr. Salim also asked Dr. Suresh Rajan to conduct a sample test for Nipah virus. The samples were collected from Suhana, sister of Zakariya.
As the death toll begins to rise, Dr. Suresh Babu confirms the unknown virus to be Nipah. Nipah spreads across Kozhikode and the neighbouring districts. Sister Akhila (the nurse who treated Zakariya), dies after a long battle with the virus and before she died, she wrote a letter to her husband. The film progresses with real life experiences of people who we are aware of when it has happened and also creates a backstory for each affected patient and generates an interest in the narration.
In an emergency situation, a team of medical practitioners and healthcare professionals, led by Health Minister C K Prameela and District Collector Paul V Abraham IAS, camp in Kozhikode to tackle the crisis. There is an attempt made to justify that this is not a bio-weapon used by any country or organisation. While the film is ending, the film pays tribute to scientists, medical professionals, hospital staff, volunteers and the people who came forward to support the team to solve the virus attack. Health minister, CK Prameela announces Kozhikode Nipah virus free. In the end, it is shown that Zakariya saw a flying fox (a breed of bats) that was on the ground. He went there and before coming in contact with the bat, he took a picture of the bat for his Instagram story.
Directed by Aashiq Abu
Produced by Aashiq Abu & Rima Kallingal
Written by Muhsin Parari, Sharfu & Suhas
Starring Kunchacko Boban, Tovino Thomas, Revathi, Parvathy Thiruvothu, Asif Ali, Rahman, Soubin Shahir, Indrajith Sukumaran, Jinu Joseph, Rima Kallingal, Madonna Sebastian, Sreenath Bhasi, Sharaf U Dheen, Remya Nambeesan, Poornima Indrajith, Joju George, Indrans
Music by Sushin Shyam
Cinematography Rajeev Ravi
Additional Cinematography: Shyju Khalid
Edited by Saiju Sreedharan
Production OPM Cinemas
Release date 7 June 2019
Running time 152 minutes
Country India
Language Malayalam / Tamil